Start your modular house development with KODEA today
KODEA is a modular houses manufacturer providing a turnkey solution for developers and cities. We specialize in modular houses for residential and commercial use, delivering higher quality – faster, and more sustainably.
Our modular houses are based on the KODEA Steel-Frame, providing precision and durability for construction and flexibility in layout and design.
Our room modules are mass-produced using a high-precision automated manufacturing robot designed by KODEA. By using automated modular manufacturing, we can build more efficiently and positively affect construction costs in many markets.
While we specialize in modular house production, we also offer turn-key solutions for the Estonian market. 
Modular house projects can be completed up to 50% faster than traditional construction and are less vulnerable to construction-related delays.
Albeit designed for mass-production, the intelligently engineered modules offer flexibility in dimensions, layout plans, interior and exterior finishing. Assembled buildings are indistinguishable from their site-built counterparts.
At KODEA we have placed high standards for quality control all throughout the process. 3D modelling, well-trained team and carefully chosen materials ensure the on-site work is reduced to a minimum.
KODA Flex represents a unique collaboration between KODEA and our long-term partner, Kodasema. Together, we introduce an affordable living solution that combines innovation, functionality, and award-winning design.
KODA Flex is a comfortable tiny house solution for year-round living, boasting carefully curated interior finishes, a tastefully furnished bathroom, and pre-installed connections for kitchen appliances. Its contemporary facade is crafted with a combination of timber cladding and modern metal finishes, creating an aesthetically inviting architectural design.
Inside KODA Flex, you can personalize your living space to fit your lifestyle. You have the option to choose a window or door in the rear wall, decide on the location of your kitchenette, and customize the interior finishes to match your individual style.
It's the ideal option for those seeking versatility and affordability. It suits to various lifestyles, from eco-friendly compact living to contemporary urban spaces, multi-purpose guesthouses, efficient home offices, or peaceful getaways.
Your KODA Flex arrives fully assembled and ready for placement on a level foundation with utility connections. It's affordable living space with endless possibilities thanks to KODEA's partnership with Kodasema.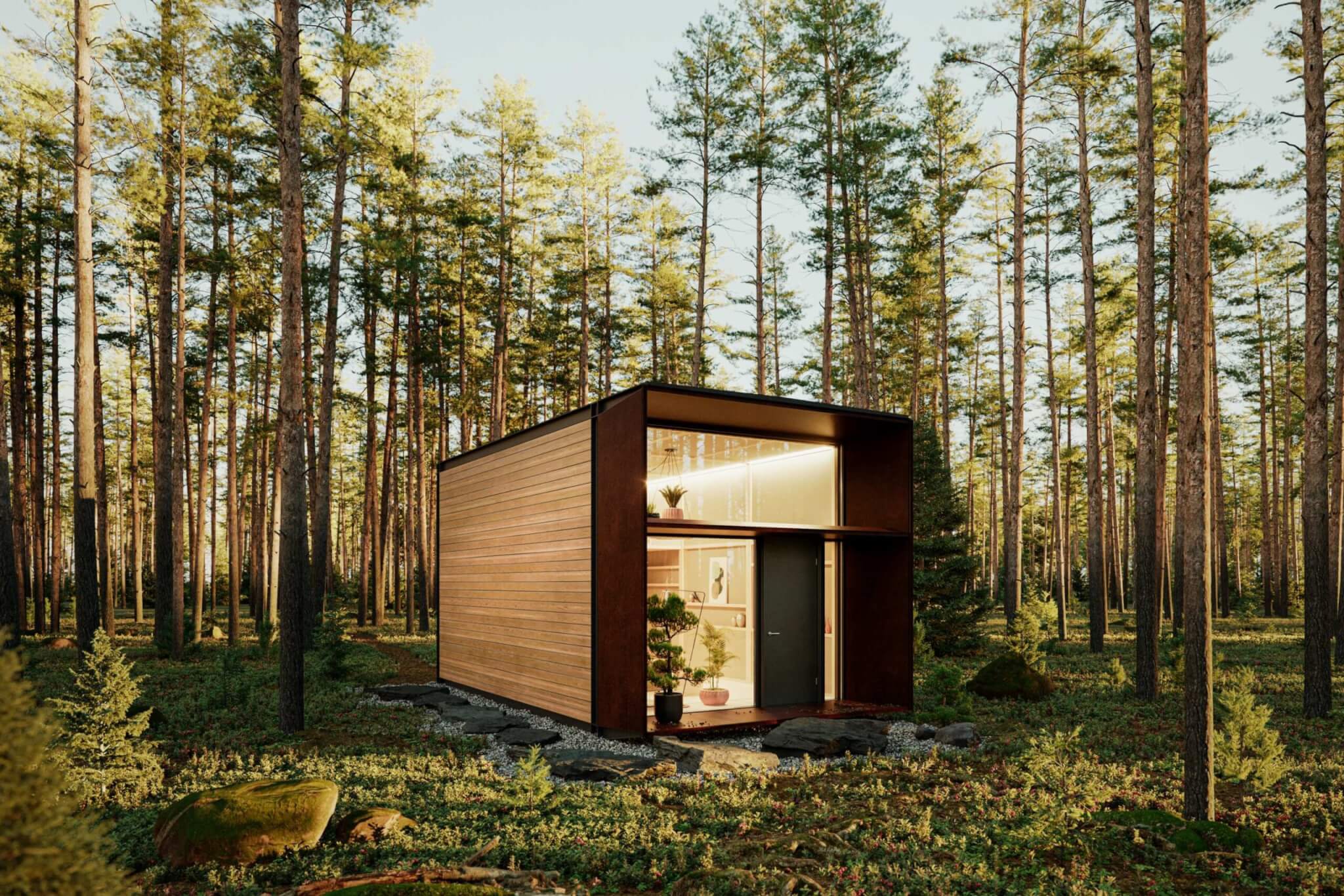 KODEA has developed two rowhouse concepts to build lasting communities, and most importantly – to create homes that people will love for generations.
KODEA row houses are highly functional up to 4 bedroom single-family homes with your own entrance and a private terrace. On the ground floor is a living room with an open kitchen, office or a guest room and a bathroom; the upper floor contains bedrooms, a walk-in closet and a bathroom with optionally including a sauna. An external storage space or a garage can be added. All in all, a reasonable price and an energy-efficient solution, while having the feeling of a private home
Small Row house is conjoined of multiple up to 3 bedroom 70-80 m² single-family homes. Small row houses are roomy enough to accommodate a young family comfortably, yet small enough to reduce the time and cost of maintaining it.
Large Row house is conjoined of multiple up to 4 bedroom 100-130 m² single-family homes. Large row houses are designed with enough space for a bigger family and with a variety of different interior layouts.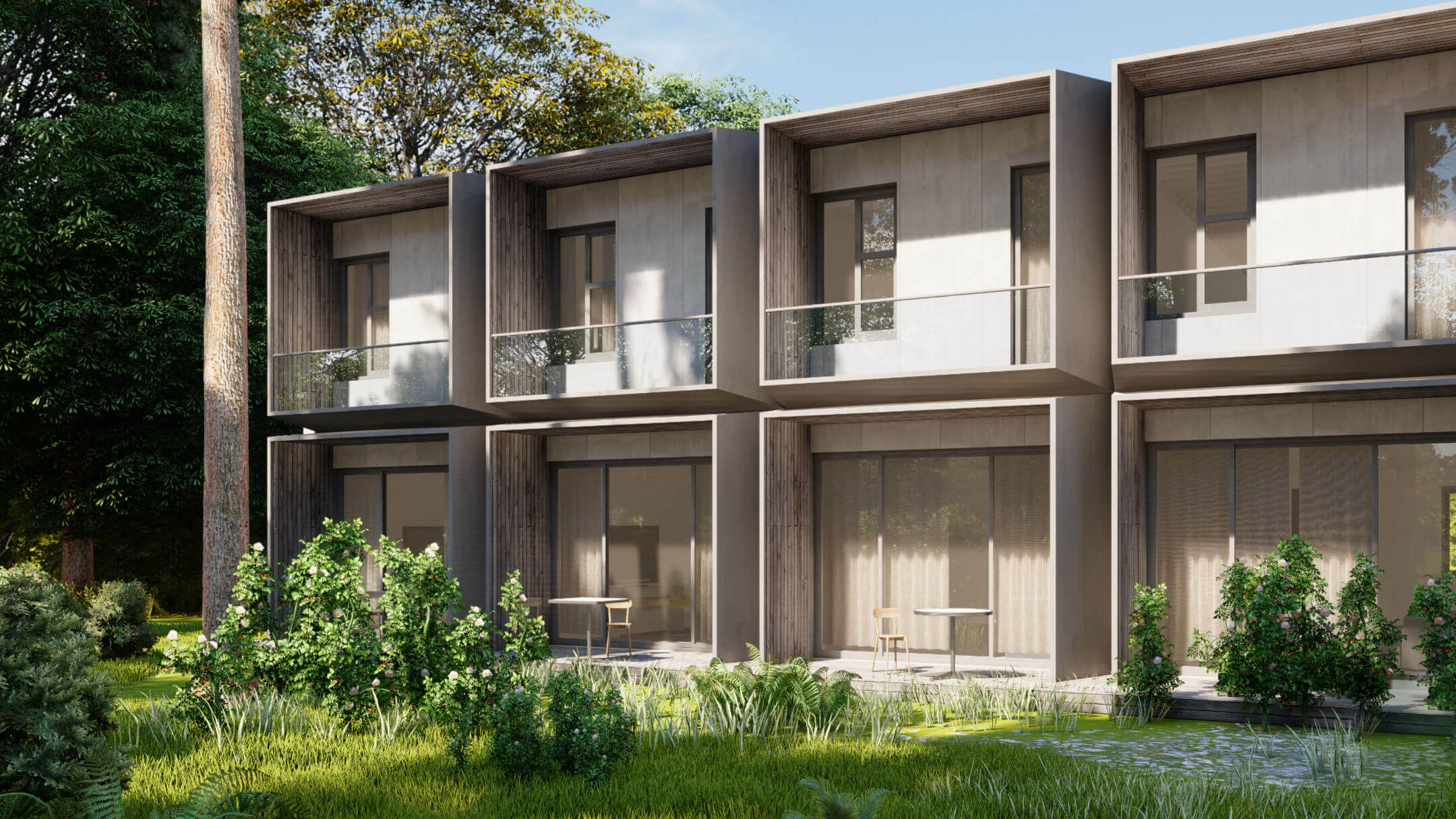 Multifunctional Apartment Buildings
KODEA Apartments concept offers mass-produced multifunctional buildings for rental or commercial use. Developers can create a variety of buildings to fit their business model. The apartment buildings can offer multi-functional use cases for the wider community, e.g, by creating a ground floor for commercial use to support local businesses. KODEA Apartments can be designed as studio apartments or up to 3-bedroom living spaces, and go as high as 4 storeys. To meet the needs of various residents, our buildings are energy-efficient and flexible, the rooms are designed to provide good acoustics and natural lighting. Faster build time and layout flexibility is an advantage offered by KODEA modular design. Feel free to contact us for more detailed information.
Some of the common use cases for multi-functional apartments:
Residential apartments with commercial workspaces

Hotels and hospitality

Co-working spaces and workforce housing

Student and senior housing

Schools and hospitals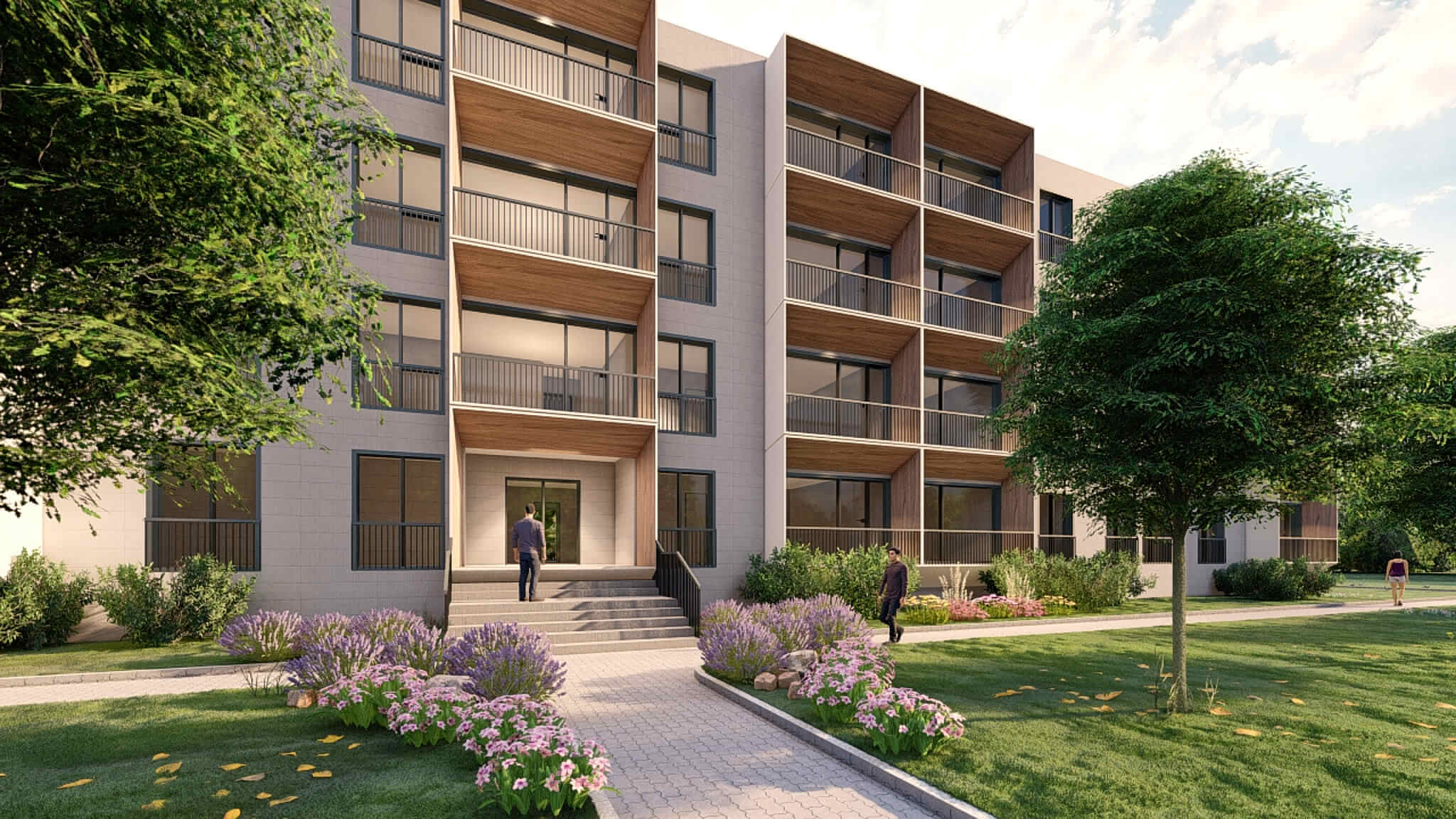 Are you looking for a smart solution for your next real estate development? KODEA modular houses system can be utilized to design multi-functional buildings or to build entire communities by combining row houses and multi-functional apartments.
Contact us and let's explore the possibilities of implementing KODEAs modular houses system for your next project.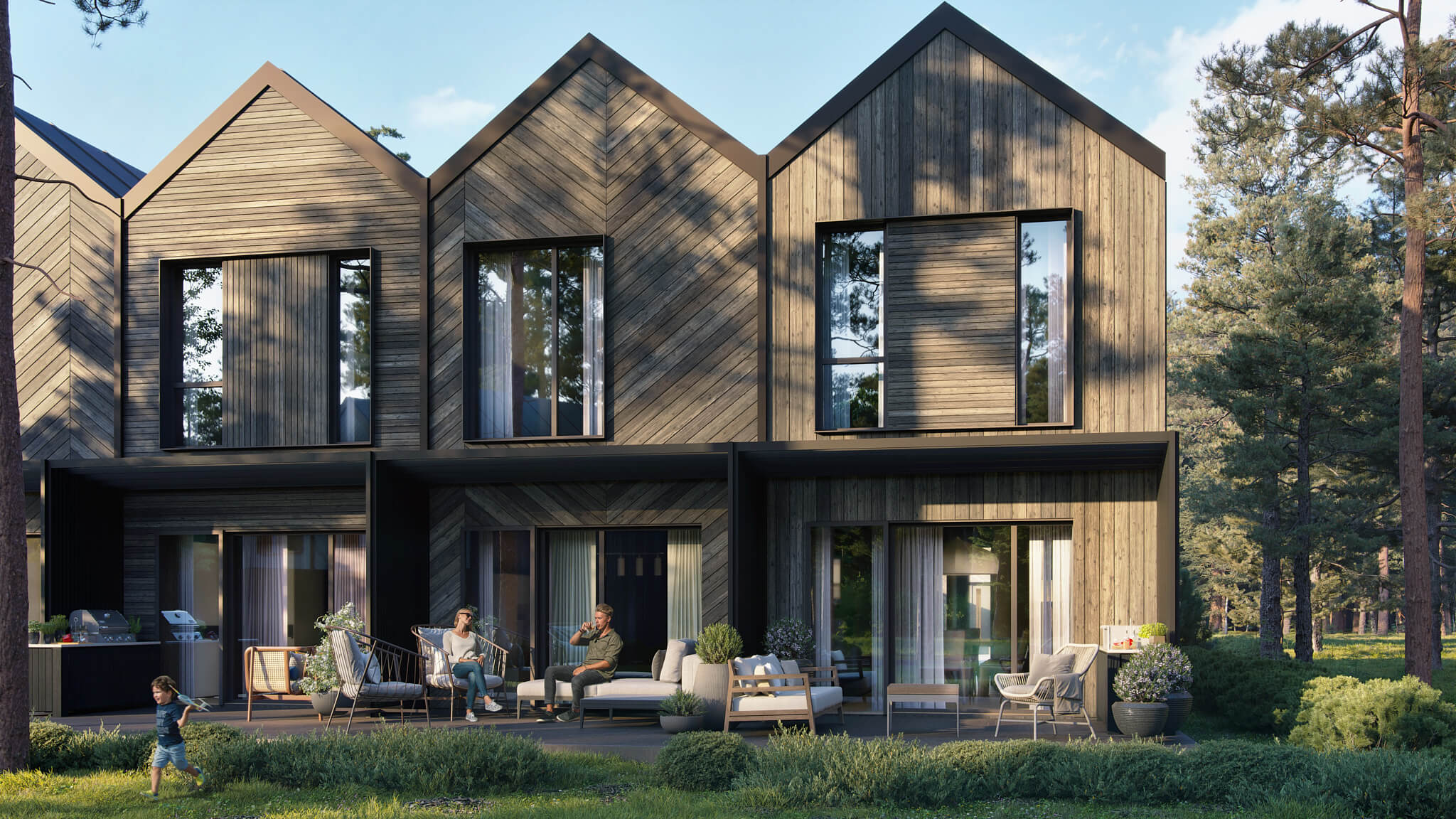 Your
KODEA
Building
Process,
Step-by-Step
The future of sustainable and affordable housing is modular. Your KODEA modular house is built in a factory, with all room modules pre-fabricated and then assembled on-site. Here is how our process looks like.
Engage
Contact our team to analyze conditions of your property and the local building permit requirements. This ensures your land is properly zoned for our modular structures. At the end of this phase, we provide you with a Feasibility Report, outlining the critical components needed to move forward.
Design
Our Design Team will work with you to develop architectural plans, details and material selections best suited for your property, budget and goals. Production efficiencies are taken into account in the early stages of design so you can customize and we can standardize for mass-production.
Permitting
Once your contract is executed, engineering and permitting begins! We develop and oversee the documents required for submittal, and coordinate with local and state agencies to obtain necessary permits. Once completed, the production begins.
Installation
Once the foundation is ready we start installing the modules on site. We'll button up the seams, install the appliances, and add the finishing touches to ensure the homes are move-in ready.
Fit and finish
When the finishing touches on your new Modular Home or Commercial buildings are completed, a detailed review and approval process is conducted. Your structure receives a Certificate of Occupancy from local building departments and our journey together is now complete!
Handover
Welcome home. We'll let you take it from here.
Frequently asked questions
Here are answers to some of the common questions about modular houses that clients ask.
Does KODEA help with obtaining a building permit?
Sure, we are happy to help you with the permit process from start to finish.
Is there a difference in the construction between modular houses and site-built houses?
The primary difference between modular houses and site-built houses is the process. Modular houses are built within a controlled factory environment, which allows for improved quality and precision in the fabrication of the components. KODEA room modules are manufactured by robots and are engineered for faster, higher quality, and more efficient construction. Modular houses use the same materials as traditional site-built homes and must comply with all applicable regulations.
Can KODEA modular houses be customized?
While we're specialized in mass-production, every customer of ours has different preferences and different regional requirements. As long as the design can be broken down into modular units and ordered in bulk, KODEA's modular houses can be built in various shapes, styles and configurations.
Does modular houses have thin walls?
Actually, modular houses don't have thin walls. KODEA room module walls are built with a double-insulated system. Our wall thickness between apartments come 8.5 to 12 inches (22-30cm). The room acoustics is measured at 59 dB, which exceeds the norm by 4dB.
What is the difference between modular houses and prefabricated element houses?
Modular houses and element houses are both built in a controlled factory environment. The difference of them lies in the construction method:
Modular house construction – Buildings are produced in separate three-dimensional sections, called modules, where the ceiling, floors and walls are already joint with electricity and plumbing installed. Using a crane system, the house is then assembled on-site from modules, enabling a quick and accurate erection of the building.
Element house construction – Buildings are assembled from two-dimensional pre-fabricated sections – walls, floors and ceilings. Once they are connected and the house is made watertight, then electricity, plumbing and internal works, such as plasterboard, can begin. 
Start
building
with
KODEA
today
Send us a message or give us a call and let's explore implementing KODEA's modular system for your next project together.